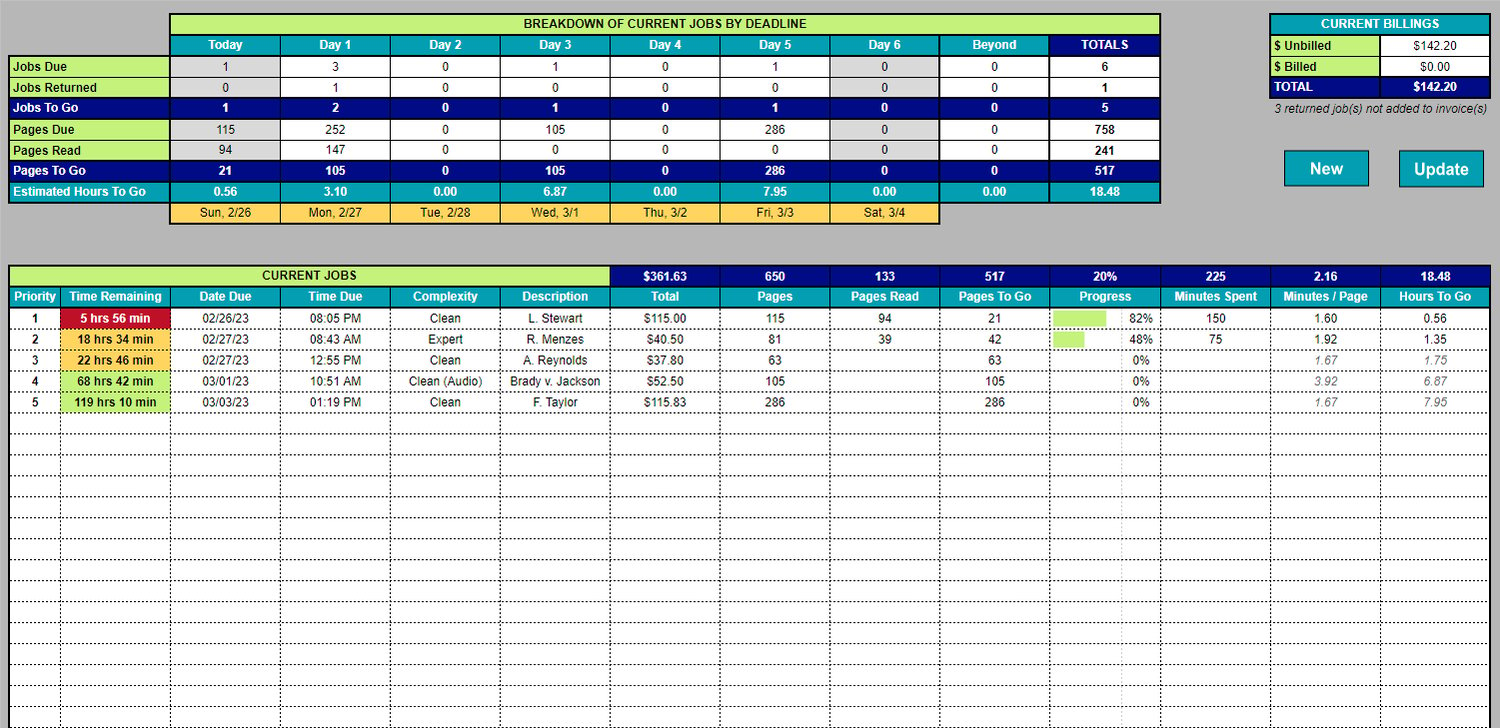 Transcript Proofreading Job Tracker Template 2.0 for Google Sheets™
The PDF Proofreading Job Tracker Template 2.0 is a Google Sheets™ template for transcript proofreaders. It features scripted functionality to help you easily add and update job details, monitor your workload, and visualize trends. Now it can even create invoices for you!
Put the calculator away! Columns that contains calculations will populate automatically as you add the required job information. You never have to worry about filling down formulas when new rows are added to your spreadsheet.
The Rates sheet lets you specify a date range for each of your rates. If you raise your rates, it won't affect the totals for jobs you completed under previous rates. Your spreadsheet will automatically determine the correct rate to use based on the date each job is received.
Your download will be the User Guide PDF, which will contain a link to save a copy of the Job Tracker template to your Google Drive™, as well as instructions, FAQs, troubleshooting advice, and helpful tips for using Google Sheets™.
---
License
Purchase includes one non-transferable personal license to be used for your personal or business use only. This license does not allow for commercial use. You may not send, give, transfer, distribute, or sell any downloadable template or custom spreadsheet, free or otherwise, original or modified, to anyone outside of your business unless you have express written permission from Peacock Sheetsmithing.
Refund Policy
Due to the digital nature of this product, all sales are final and no refunds will be issued.
Required Scopes Permissions
For full functionality, the Proofreading Job Tracker Spreadsheet template requires certain permissions under your Google account so that scripted functions are able to perform read and write actions within your Proofreading Job Tracker Spreadsheet and save PDFs to your Google Drive™. No information is transferred to any other server or kept by me in any way. Everything stays within your own Google Drive™.